Back in the fall, I packed up my laptop and headed out on a long trip. We started with 10 days in Italy (my wife had a conference there) and then headed down to South Africa to visit friends and family. This was a bit of a working vacation, as I was going to be available in case of issues on the sites that I support or if needed in any way. Throughout the trip I carried a company phone that was generally able to connect without much problem everywhere we went.
From a tech and internet point of view, Italy was little different from the US. Technology (especially phones) is common and pretty much works the same other than the need for power adapters. That said the food was better, the beer was worse and people really do say "Mama Mia" – but that's off topic!
Interestingly, in Italy free wifi was quite rare. I'd had this fanciful idea of sitting down in some scenic cafe, ordering a drink and opening up my laptop to keep an eye on my clients' websites. I'd assumed that in the event of an emergency I'd be able to quickly get online to fix problems.

I found that free, open wifi hotspots are quite rare. In fact, I never once actually found one. Most hotels and probably some cafes did have wifi – but it was not free. Only in hotels was I able to get reliable Internet access. We stayed at four different hotels during our trip. The hotel in Rome had wifi, but you had to call down to the front desk to get the password, which changed frequently. At a hotel in Bologna, they had an interesting little machine that printed out limited term passwords for wifi access – that would give you 30 minutes at no cost, and you had to pay for further use. But breakfast was free – and even had baristas! Italians certainly have their priorities straight!
At two other hotels, the only available access was in the hotel lobby – not in the room. This is probably simply because these hotels often have rooms in other buildings and the wifi signal just won't reach to all the rooms in the hotel. Of course these also were password protected.
When I was online, I didn't notice any particular slowness in terms of latency or bandwidth when connecting to servers back in the states.
Internet access was available both on the flights we took and on many of the trains we used – it never seemed to be quite worth the price, especially since I was more interested in trying to get some sleep than getting online!
Like Italy, South Africa seems to also have very limited wifi. Africa often conjures up images of wildlife and limited technology. This is not the case :-), at least outside of the actual game parks. Computer literacy and ownership is lower in general, but by no means rare – like many things in South Africa, it may be related to income level. That said, most people we visited had computers and high speed internet access.

I found the quality of the internet access to be quite poor. Adjusted for income, it's quite expensive – but not reliable, and slow. I once called tech support at the ISP to figure out connection problems, which was an interesting experience! The reasons cited for slowness or lack of service were not plausible. Internet access at hotels and guest houses was available but really slow, or only available in the main lobby in the case of guest houses.
Latency issues connecting to servers in the US were quite bad, especially if you're used to noodling around in SSH. When a client was having performance problems on their site, it was very difficult for me to tell if I was seeing the same problem, or just experiencing a bad connection!
Unlike here, Blackberry and BBM is incredibly popular in South Africa. When we set up a "pay as you go" account with Vodacom, the store carried the same popular phones as at home. However, they were quite a bit more expensive. If you adjusted for income, they were very pricey! The cost per minute on pay as you go was also about three times the average cost in the US. The prepaid cost on contracts only offered only a service to a network, and call costs were extra. A package of minutes is not included in the monthly cost, like it is here.
Calls to a mobile phone however are at no cost to the recipient. We usually tried to get services to call us to avoid having to continuously replenish our airtime. Luckily, it's very easy to buy airtime – you can do it online, or at all sorts of stores including gas stations and grocery stores. We did however run out of credit right in the middle of an essential call!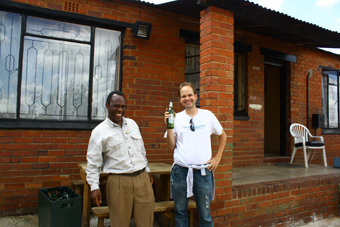 Another interesting thing about South Africa (and Africa in general I suspect) is that many of the "big name" ecommerce sites are either not popular or not present at all. This seems like a big opportunity for African ecommerce sites. There are many difficulties, but on the other hand they have access to a huge untapped market which is more saturated in the US, offering big advantages over US-based ecommerce sites like Amazon that need to offer competitive prices.
Shipping costs to a US-based address when purchasing from ecommerce sites like Amazon still leave the cost affordable and often lower compared to store prices. Shipping costs to Africa from US based sites are prohibitive and electronics are often region specific. Still, it is not clear that sites with local suppliers in Africa will be able to source products as cheaply as US based sites can. Browsing US-based ecommerce sites in Africa is also very slow.
I have to say, the other big opportunity in SA is the craft beer industry! ;-D I enjoyed sampling new beverages but longed for a heavy IPA. These were lacking in Italy too. We managed to find just one at a small local pub, just outside our hotel. Another untapped market? Perhaps, but exploring that would mean setting up production within those countries since export costs may be high, or policies restrictive – not that I am versed in this area at all!
I had fun attempting to pronounce local names like the Hluhluwe Game park we visited. Equally interesting was the gas station food offerings, which were cooked right there in the store kitchen. While it included animal parts I am unlikely to find here…anywhere… I am quite sure they were high fructose corn syrup free! Yes, I did sample a few, much to my wifes delight.
What a melting pot of Indo-South African and African cusine and
culture!
Posted in: Nexcess