The eCommerce industry surpassed a trillion-dollars in sales worldwide for 2012, and continues to demonstrate substantial growth. eMarketer reported for the 2012 selling year, B2C eCommerce sales grew by 21.1 percent worldwide,and predicted that sales will increase another 12.3 percent to nearly $1.3 trillion dollars for 2013. [1]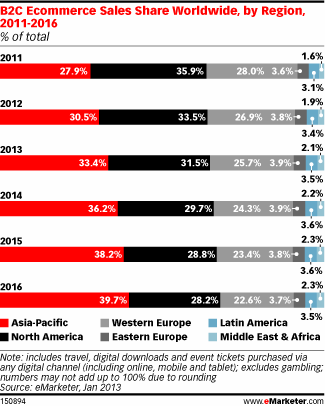 Last year, North America lead the way with a total share of 30.5 percent at 364.66 billion in total sales.[2] eCommerce sales will continue to increase in North America and grow to even greater levels across the global market according to projections made by eMarketer. In the coming years, projections indicate North America will lose it's top position as the leader in eCommerce sales to Asia-Pacifc. Last year (2012) Asia-Pacific's share of spending was 30.5 percent, while this year Asia-Pacific is projected to attain 33.4 percent of the total sales made online, to surpass North America at 31.5 percent. Despite the changing eCommerce landscape, the single largest country will remain the United States with China being a close second. This may indicate global market trends will increase with the United States leading the direction for new online shopping innovations.
The recent eMarketers report is simply validating the early forward thinking approach of companies like Ebay, who's desire to enter a new phase in the eCommerce market, when they finalized acquisition of Magento in mid-2011. Magento is proving to be the fastest growing and most successful platform in North America, and if the success of Magento in the US is any indicator of the success globally, adoption rates in Europe and Asia will prove to be much faster than expected. According to UK Developer Tom Robertshaw, the most popular platform surveyed in Alexa's top 1 million sites uses Magento with 23 percent of the survey.[3]
As merchants continue to see the value in Magento, the true potential impact and success in the global market will depend on the Magento partners as a whole. Magento has proven to be very successful in itself, but many merchants are gravitating to the Magento platform with the assistance of various (Solution/Industry/Hosting) partners. Magento's recent announcement recognizes the contribution of partners within the community to deliver a successful experience and to ensure it is positive and productive. "We've seen tremendous growth in the size and scale of merchants choosing Magento and as a natural evolution of the business it made sense for us to launch a new Solution Partner Program," said Roy Rubin, COO of Magento and X.commerce. Roy Ruben goes on to state, "Our partners are an important part of the Magento ecosystem and we are committed to working with them to help them deliver high quality services." [4]
Merchant interaction with the partner community is essential to the sustainability and long-term success of the individual merchant and Magento's reputation as a whole. Magento has taken it upon itself to manage the quality of the partners, in order to maintain the highest potential success rate for merchants. As Magento's success continues to reach new regions of the global market it's critical for (Solution/Industry/Hosting) partners to represent the quality work the community is capable of delivering. Magento's desire to restructure the partner program allows for a clear understanding and collaborative effort across multiple fronts.
Summary of the Magento Partner Categories
1. Solution Partners: Whether you are launching your first online store or need help redeveloping an existing site. The Solutions Partners will schedule a consultation and build a complete design, development, integration, marketing and deployment strategy. It is absolutely critical for a merchant to choose a Solution partner that can properly manage the project and maintain client expectations.
http://www.magentocommerce.com/partners/solution
2. Industry Partners: The Industry Partners is a collection of companies that create integrations and applications for marketing and sales tools, payment processing, shipping and fulfillment, accounting, back-end integration, CRM, SEM/SEO and much more. Relationships established among Solution and Industry partners is critical, to ensure that quality extensions are implemented and properly integrated into the Magento platform.
http://www.magentocommerce.com/partners/industry/
3. Hosting Partners: Making sure your online store stays up and running with fast response times is just as important to your business and your customers as the design and shopping experience. A quality hosting provider will ensure that the server environment is properly optimized and completely managed specifically for Magento. Solution partners will develop within the hosting environment to ensure speed performance test and benchmark thresholds are properly maintained for a launch date.
http://www.magentocommerce.com/partners/hosting/
A Solution Partner is more likely to recommend a product from an Industry Partner, and the services of a Hosting Partner when there is a demonstrated track of success. Many relationships are developed over years of mutual experience within the evolution of the Magento community. Reaching out to potential Solution/Industry firms to request information on their partners is always a good indicator of the types of relationships established. It is the merchants responsibility to ensure that they are going with the partner that can help to achieve their project goals, and when they can incorporate other partners into the project you can be sure that plan of action is being developed on a collaborative effort.
According to eMarketer's recent projections, the eCommerce industry is experiencing the highest demand than ever before. The holistic approach Magento and its partners provide to the thousands of US based merchants, will ultimately attract a great deal of interest. Merchants will ultimately work with various partners to better integrate certain functionality objectives, and hosting partner relationships to ensure optimal performance goals are aligned.
Also, Asia-Pacific and other global markets will continue to expand, where localized partners will begin to offer the same quality services as many of their US and EU counterparts. It is important to consider the type of relationships developed across various partner groups to ensure that all parties involved, can deliver quality work, as new partners move into the Magento ecosystem. For more information on the various partners Nexcess has established please visit our Magento Development partners page. https://www.nexcess.net/magento-partners
eMarketer. "Ecommerce Sales Topped $1 Trillion for First Time in 2012" Last modified Feb 5, 2013. – http://www.emarketer.com/Article/Ecommerce-Sales-Topped-1-Trillion-First-Time-2012/1009649
eMarketer. "Ecommerce Sales Topped $1 Trillion for First Time in 2012" Last modified Feb 5, 2013. – http://www.emarketer.com/Article/Ecommerce-Sales-Topped-1-Trillion-First-Time-2012/1009649
Tom Robertshaw, "October 2012 Ecommerce Survey" Last modified November 6, 2012. – http://tomrobertshaw.net/2012/11/october-2012-ecommerce-survey/
BusinessWire "Merchant Growth Creates Demand for Magento's New Solution Partner Program" Last modified February 9, 2013. – http://www.marketwatch.com/story/merchant-growth-creates-demand-for-magentos-new-solution-partner-program-2013-02-08
Posted in: Magento