We're excited to announce a brand-new addition to our performance-optimized application hosting platform. In partnership with Oro, we have engineered the perfect OroCRM managed hosting solution for online business.
OroCRM is a customer relationship management application that empowers online businesses to maximize customer value.
Deep integration with third-party services — OroCRM integrates with multiple sales and support channels to provide a centralized interface for customer relationship management.
Powerful customer segmentation tools with sophisticated data mining and analytics delivering information via flexible custom reports.
Workflow management tools that enable businesses to develop best-practice customer relationship management processes customized to meet their specific needs.
Integration with external marketing tools like MailChimp and dotmailer for marketing automation and personalized email marketing.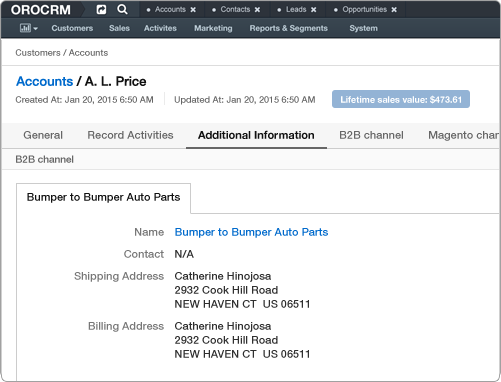 OroCRM is particularly well-suited for Magento eCommerce retailers. Oro developers have created a number of integrations for Magento, including the eCommerce Dashboard for Magento, the ability to manage Magento accounts within OroCRM, RFM analysis tools, Magento web tracking, abandoned cart recovery with automated emailing, and powerful email marketing tools.
For businesses selling products and services on the web, customer relationship management can be a complex problem. To maximize the value of each customer, a business needs to know who they are, what they need, and how to most effectively market to them. Accurate identification of individual customers and effective segmentation of the customer base as a whole are key to delivering the right marketing messages.
To online businesses, customers exist as browsers on a WordPress site, buyers on a Magento eCommerce store or on third-party marketplaces like Etsy and eBay, social media profiles, email and phone contacts, and collections of support tickets. Without a single interface to collate and analyze customer data, effective marketing is all but impossible. OroCRM helps companies build a cohesive strategy for maximizing the value of their customers.
Nexcess team of hosting experts has years of experience with the open source technology stack on which OroCRM is built, including PHP, the Symfony framework, and MySQL. Our OroCRM hosting is based on the tried-and-tested Secure Isolated Platform Server technology that also powers Nexcess performance-optimized Magento hosting. It's essential that a company's CRM platform is both fast and reliable — qualities that our Magento and WordPress hosting clients have come to rely on.
At launch, we're making OroCRM available on a range of dedicated server hosting plans, including the ORO-400 plan: a Dell R230 server with an Intel Xeon E301230v5 processor, 16GB of RAM, and 300 GB of data storage in a RAID 10 configuration.
Nexcess is a global hosting provider, and our OroCRM hosting plans will be available from all of our facilities across the US, Europe, and Australia.
Posted in: News Releases, Nexcess