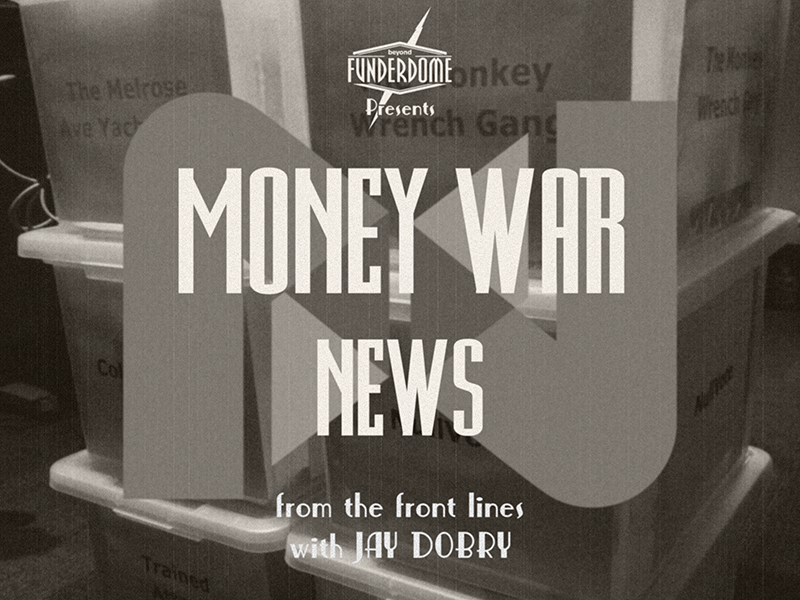 From the journal of wartime correspondent Jay Dobry, who served with near-distinction in the Second Annual Nexcess Money War.
For those who aren't Money War historians, this annual event divides Nexcess into six teams. Each team picks a charity, then Overseer/Billing Manager Jackie assigns a container to each team. In Week 1, teams score positive points values for any money put into their container, so teams tend to donate to their own tubs.
Scores are tallied, then in Week 2, teams score negative points for any money dropped into their containers, so teams usually donate to other teams' collections. After week 2, the winning team's charity receives 75 percent of bounty, and Nexcess matches the amount. The "losing" teams' charities divvy up the remaining 25 percent.
The charities:
After some drama and playful mischief in first war, the containers are now locked down by 24-hour camera surveillance, lava pits, and feral robo-monkeys.
---
My dearest love,
The word is in – the Second Nexcess Money War is upon us. I am on a bus to the front, where six sides will soon throw countless pennies, dimes, and dollar bills into the gears of warfare.
Charities will collect our fallen coins by the thousands. My outfit, the Agents of Chaos, has charged me with the task of filling our money jars faster than that of our enemies. Our charity – St. Jude Children's Research Hospital – is noble, and it makes me wonder what kind of enemy would stand against us.
They read like a list of gangs and evil doers. The Monkey Wrench Gang. NullVote. Trained Attack Squirrels. These are not the names of heroes, and I fear to guess what charities they champion. We hear things… Talk of killer rabbits with pointy teeth and vicious streaks a mile wide, and that's just the start of it. pray these are just idle musings created by the constant bombardment of coin and bill.
My bus has stopped, my love, and already I can taste copper and cash in the wind. I would tell you not to worry, but I know you will anyway. I know the pair of sugar gliders I bought for you keep you at least a little company, and I'm sure Kodo and Podo will love their new home. I bought you a pair of males because you don't need a swarm of gliders, as cute as that might be.
Will write again soon!
My Moon and Stars,
Good news! We're holding our own against the vile Monkey Wrench Gang and are well ahead of the others. Curiously, Colonel Care has yet to even appear on the battlefield, having committed only a single penny to their war effort so far.
I'm sorry to hear about what I'm sure was the breeder's honest mistake. I know you'll do the best you can with Kodo, Podo, Nodo, Rodo, Modo, Kodo Jr., Hodo, Zodo, Mr. Big, Zsa Zsa, and Chris. I'm shocked to learn that they bark loud and often, and had no idea they're nocturnal. Guess those big eyes should've been a giveaway.
Cuddle those little guys for me, miss you.
My Sweet,
I write with a heavy heart. Losses are piling up on both sides. Every soldier in my company has given at least a dollar, or knows someone that has. What we give, we give with hope for a better tomorrow, and yet we continue to monitor the battlefield for signs of enemy treachery.
I'm sure you remember the villainy of the First Money War, though in our innocence we were still calling it "Penny War" back then. We were ready to claim our victory, only to be subverted by General Jarvis and his band of "Trouts," as they called themselves. Their overtures of surrender were but a ruse.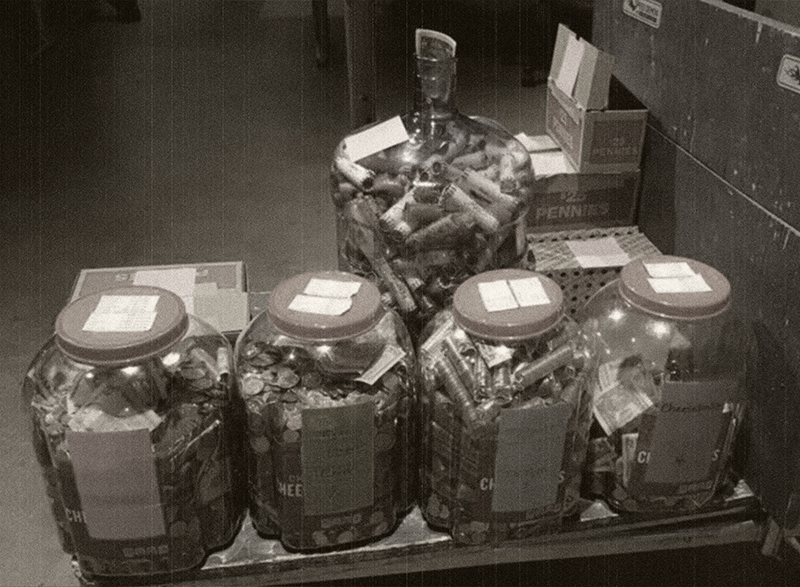 As we prepared to dictate terms, the devious Jarvis and his cronies launched a late-hour attack, stealing our victory. Literally minutes before the mutually-agreed-upon cessation of hostilities, they unleashed a cart filled with hundreds of pounds of rolled coins, obliterating our celebration. This will not stand. The minions of Jarvis have long since dispersed into our numerous rivals, but as you can see from this photograph, but the stain of their deception remains.
My apologies, I must return to the front, and I have ignored your good news! Congratulations on your second job at Exotic Pets, and it's great they're willing to pay you exclusively in sugar glider food! I know how difficult it must be for you to be away from those darlings, but stay strong.
Miss you, and hug little Chris IV for me!
We had no choice, my love.
With dawn breaking on the battlefield, the children of St. Jude counting on us, and the war drawing to a close… we had to be sure.
With only 48 hours left, we were on the verge of suffering defeat to The Monkey Wrench Gang. They had raised $307.07 to our $301.32 – a margin of less than $5, but a losing one nonetheless. The insidious General Jarvis was nowhere to be seen, but we remembered his lesson well.
So we sabotaged them.
It was for the children, my sweet lady, you must not judge us too harshly. It wasn't much – only $20 or so – but it was enough during the week when money added to a team's jar was deducted from their score. And the MWG was not blameless, I can assure you, but fortunately their efforts collapsed in the waning hours of the conflict.
Victory. Not just for us, but for St. Jude Children's Research Hospital, who sees $1737 more than they would have if we listened to our more delicate sensibilities of battlefield etiquette.
Speaking of "children," how do our little furry winged friends fare? My bunkmate, Johnny, who never fails to be a fountainhead of trivial information, has informed me sugar gliders can live up to 15 years! It is an embarrassment of riches, to be sure, but nothing compared to what I'm certain will be your tender, doting, and grateful embrace upon my return.
All my love, and I'll see you soon!
JD
---
After the combined effort of all teams and with Nexcess matching every dollar, the total raised for charity was $2316. St. Jude takes in $1737, with the other charities dividing up the remainder.
As for the fate of Jay Dobry, he safely returned home to his sweet beloved, who ducked his hug, quit her three jobs, and moved to Cozumel to open a free clinic for spaying and neutering house pets.
Posted in: Nexcess